Dock Lighting
Lighting your boat dock is important for the safety of you and your passengers when entering and exiting your vessel in the dark, and can also be a wonderful feature to have should you want to entertain on your boat dock after the sun has set. Boat dock lighting also ensures that yourself, or others do not unexpectedly end up in the water during the nighttime hours.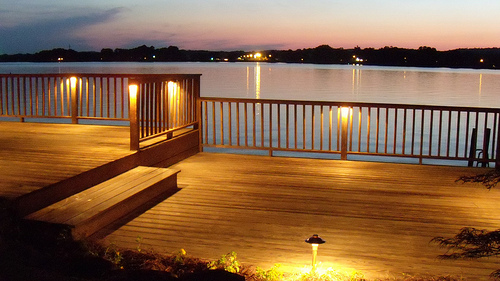 Dock lighting from a Dynamic lighting electrician creates a safer environment for your dock. We have installed lighting for docks in the Brevard Beach, and we will advise you on design as well as come out to your home to get a sense of what you want installed and the best possible way to get it completed as you wish.
Lighting your boat dock properly can help ensure that you can see the dock well when returning from a voyage, and don't damage your boat or the dock when you attempt to dock the boat upon your return. A dock that is not lit properly can lend to boats accidentally hitting a corner and damaging the boat or the dock.
Boat dock lights can make your boat dock not only a safer but also a much more enjoyable place. Boat dock lights can make night swimming a possibility, and can allow yourself and guests to spend time on the dock well into the night without ever being in the dark.
When looking for a professional Brevard dock lighting contractor, please call us today at 321-555-5555 or complete our Free Estimate Form.