Landscape Lighting Design
Dynamic Lighting designs your home to get as many shadows as possible. Shadows in Florida really makes a home standout. It takes work and caring about how an installation will look. We try to do every home as if it were ours and treat people the way we would want to be treated. This means that in the design, we will not place an over amount of lights. More is not necessarily better. We will give you what we think will look great and listen to your needs and wants. It is better to understate a bit and then add where needed than to overload and things look overdone. In the design, we will get lighting up into the eaves of your home. That way the lights will spread and give you a complete outline look. We try to get as much width as possible with the lighting as it make your home look as nice at night as it does in daylight. By using hub and home run, we can always add lights later, and not affect the integrity of the system. We generally will use transformers that are larger than you require to both take on additional lighting if you require it, as well as to handle trees as they get larger over the years. This saves you money in the long run as you will not have to change out the transformers. Hub and home run installations are the best way to ensure that when the lighting comes up on your home, it looks the way it is supposed to. It will not have one light brighter than the next in the application.
LED Landscape lighting
LED Landscape Lighting Fixtures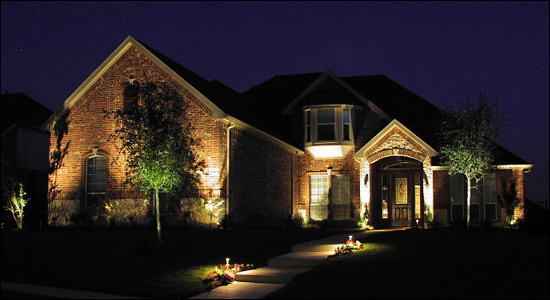 LED lighting will make huge gains over the next several years.  The technology is here now and is here to stay.  We have the technology for small LEDS for waterfalls and fountains.  We also have the LED technology for up-lighting for architectural and landscape designs.  We carry several options for our customers.  First, we have Kichler fixtures.  They are the leader in LED fixture technology.  Bulb technology is just around the corner as well.  If our customers have an application where, over time, there is no requirement to increase the wattage, then Kichler is a definite option.  However, if our customer has an application where trees will grow, or if they want to increase the amount of lighting on their current home, but have transformer, line, or fixture restriction, then the bulb technology is the way to go.  We offer Kichler's aluminum and brass options, as well as Coppermoon's copper and brass options.  These become very viable options on large applications and commercial applications as they will reduce the overall power consumption by 75% to 80%.  So, while the costs to get into LEDS are higher than standard low voltage systems, the payback on the customers utility bill is a huge consideration.
WHY CHOOSE DYNAMIC LIGHTING FOR MY LANDSCAPE?
Dynamic Lighting is an artistic architectural landscape lighting specialty company 'based' in Brevard County Florida. Dynamic Lighting will beautify any property including residential, commercial or destinations such as resorts, hotels, spas and retreats. Dynamic Lighting can be your designer, consultant or installer and we can be commissioned to work in the USA, Caribbean,  including these Brevard Florida cities:
Brevard County
Palm Bay
Melbourne
Indiatlantic
Boca Raton
Delray Beach
Manalapan
Palm Beach Island

Hillsboro Beach
Plantation
Pompano Beach
Southwest Ranches
Lighthouse Point